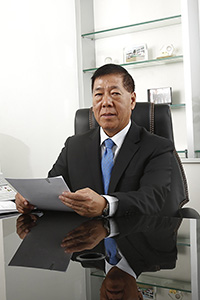 Sr. Benson Wong
Sai Ning
FHKIS, MRICS, RPS (BS), AP, RI

Nationality: Chinese

Sr. Benson Wong has been a qualified Chartered Building Surveyor since 1980 when he was elected an Associate of the Royal Institution of Chartered Surveyors in London. Sr. Benson Wong was elected a Fellow of the Hong Kong Institute of Surveyors in 1996. Sr. Benson Wong is also a Registered Professional Surveyor in Hong Kong as well as an Authorized Person and Registered Inspector under the Buildings Ordinance, Cap 123. Sr. Benson Wong has been working as a Building Surveyor in Hong Kong for over 35 years in a wide variety of building consultancy works including new building developments; addition and alteration works; surveys and reports on different types of buildings for different purposes; investigation and analysis of building condition and defects; making recommendations for repairs, improvement and refurbishment works in new and old buildings.
Professional Qualifications

1980
Professional Member of the Royal Institution of Chartered Surveyors, United Kingdom
1984
Associate Member of the Hong Kong Institute of Surveyors, Hong Kong
1988
Authorized Person, Buildings Ordinance, Chapter 123, Hong Kong﹔
1994
Registered Professional Surveyor (Building Surveying), Surveyors Registration Board
1995
Fellow Member of the Hong Kong Institute of Surveyors, Hong Kong
2012
Registered Inspector, Buildings Ordinance, Chapter 123, Hong Kong
Public Services
Past Member of the Authorized Person. Registration Committee
Past Member of the Contractors Registration Committee
Past Member of the APs' and RSEs' Disciplinary Board Panel
Past Member of the Building Sub-Committee's working group on seepages
Past Member of the Advisory Committee on Barrier Free Access (ACBFA)
Past HKIS's Representative to Appeal Tribunal Panel (Sec 45)
The founder and the Chairman of the Professional Building Surveying Consultants Association of Hong Kong.
The convener of the Building Safety Concern Group of the HKIS
The co-writer of the Paper "New Dimension of Building Maintenance"
The writer for the part of building maintenance in the HKIS's presentation to the Legco on the Bill of the Urban Renewal Authority
The speaker on the subject of "Fire Safety in Building" to the Building Surveyors Conference in 1999